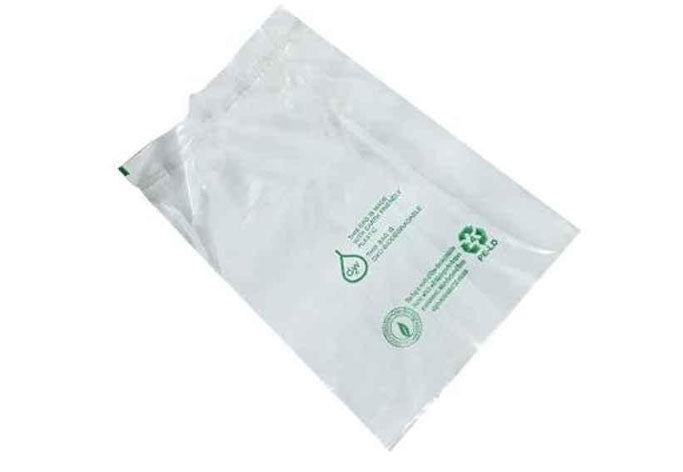 CPCB Printed Oxo-Biodegradable Plain LDPE Courier Bags Without POD - 60 Micron (Pack of 5000 Pcs)
Buy from Options Below
Buy best price high-quality and superior durability Oxo-Biodegradable Courier Bags, Oxo-Biodegradable LDPE Courier Bags, Printed Plain Poly Bags, Printed OXO-Biodegradable Plastic, Compostable Courier Bag, Compostable Courier Bag, Oxo-Biodegradable Courier Pouch without POD, 60 Micron. Oxo-Biodegradable Courier Bags India well known for using superior grade raw materials and Internationally acclaimed production systems to meet International Industry standards.Bags finds applications in FMCG packaging, Seeds Packaging, Pesticide Packaging, Dairy Products, Vacuum Pouches, etc.
The term 'Oxo-biodegradable' is a hybridisation of two words, oxidation and biodegradable. It clearly defines a two-step process to degrade the polythene film and make it available for biodegradability within the environment when a bag has finished its useful life, usually within a set time period depending on the % added.  1% would trigger in around 6-8 months.  The polythene film is manufactured from at least 25% post-consumer waste and are also 100 % Oxo-biodegradable.
 Oxo-Biodegradable Courier Bags are lightweight bags save the time and energy of wrapping your items and also are eco-friendly options, reduce landfill waste, and reduce demand for virgin plastics perfect for shipping a wide variety of non-fragile items. Tough but lightweight, they keep products dry, safe, and secure during their journey.
Features of Oxo-Biodegradable Courier Bags:
High-strength seams/side seal.

Self-seal closure is tamper-resistant, increases content security as well as safe transit.

Ideal for non-fragile items.

Perforated strip or tear tape options facilitate opening.

Poly colour can be customised.

With or Without Document Pouch (With Re-closable tape).

Clean appearance is aesthetically pleasing as well as very attractive.

Budget-friendly and green and fully recyclable.

Customised Multi-colour printing available .