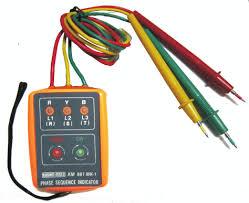 Phase Sequence Indicator Operating Voltage 60-600V AC
When connecting any 3 phase equipment to the 3 phase power, the first step is to check the phase sequence of the 3 phase power supply. This instrument is a handy and essential instrument for checking the phase sequence in 3 phase Circuits. When connecting motors, energy meters, watt meters, Power factor meters, Power factor controllers, Power meters etc, it is very important to connect the equipments in proper phase sequence, otherwise the instrument / equipment can be damaged or give incorrect readings. The instrument can also be used to check for open phase( one phase only)
Description : It is used to measure the Phase sequence (R,Y,B) & Open phase Condition through LED and Buzzer.
Operational Voltage : 60 ~ 600V
Dielectric Strength : 2000V / minute (impulse Voltage 4000V)
Measuring frequency range : 20Hz ~ 400Hz
Dimension : 85 x 64 x 23mm (excluding the measuring lead)
Weight : Approx. 200g.