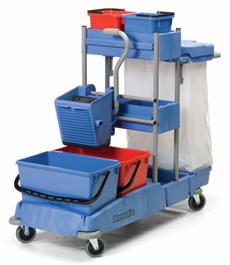 The Midi remains very compact yet has the added important feature of very useful additional storage space for all those extra cleaning materials so often required.
The standard specification comprises a structofoam base unit,twin half trays and two 5-litre pails.
A choice of Nutex coated steel or stainless steels construction and single 120-litre to twin 70-litre waste units.
The two standard mop kits provide a basic choice between twin 17-litre (It5) or single 34-litre (IT4)buckets and the All-Mops press operates with our full range of mop design in either Kentucky, Flat or Microfibre styles.